Help Us Make an Impact – Will Your Business Be the Good News this World Needs?
As a New Zealand employer, you could make a world of difference by employing Ukrainian, Iranian or Afghan migrants for jobs which they are both highly capable of, and incredibly skilled in. You could make an impact where you previously felt helpless when listening to the news about all the conflict-ridden countries in the world. Moreover, you could fill your staff shortages, so desperately felt by many New Zealand employers, with highly skilled migrants who speak perfect English.
According to current OECD statistics, Ukrainian women are overrepresented among the highly educated: 56% of working-age women completed a tertiary degree versus only 43% of Ukrainian men. This is significant considering most refugees are women and children, because the enforcement of martial law prevents most men of conscription age (18 to 60 years) from leaving the country. Women with higher-than-average educational levels, proficiency in English and a work ethic like no other, are waiting for someone like you to offer them a life-changing job position in New Zealand.
This very situation echoes throughout the various conflict-affected regions such as Afghanistan, Zimbabwe and Iran with individuals scattered across surrounding nations, struggling to take on decent employment to survive and support their families. Oftentimes, our experience 'assisting' these individuals involves a knock at the front door and a sales pitch for impersonalised monthly donations, however, we propose that you instead reach out your hand as a New Zealand employer and offer these individuals the opportunity of a lifetime. You'll not only fill your in-demand job vacancy, but also contribute to recognising the value of these refugees who have more often than not, lost everything.
At Access NZ, we often reflect upon our own potential to contribute to the humanitarian cause of aiding these individuals and practicing what we preach. Fortunately, we have already connected several individuals with potential employers and are working on securing their visa pathways to a new life. A couple of young, highly qualified Afghan men, who worked with American counterparts in an Engineering firm, can now escape the Taliban and work as Network Engineers here in New Zealand. Moreover, we have also connected two sisters – qualified Doctors – unable to practice in Afghanistan due to the oppressive rules of the Taliban, with employers in the healthcare sector. The war-riddled zone they have left behind, or are in the process of leaving, is an improbable feat made possible, but we cannot do this alone. We need the help of many more New Zealand-based employers who want to do good and transform people's lives.
Let's make a difference in our own unique way as companies, businesses, and organisations, by promoting the skills-appropriate employment of these individuals in New Zealand. If you want to boost your social impact or be a trailblazer of this initiative, all you need to do is fill in our Employer Registration Form with details on your business and the position you have a vacancy for – Access NZ handles the rest, connecting you with these highly motivated and skilled individuals whose lives you can change in a heartbeat.
It is important to note that Access NZ is not a recruitment company but an immigration consultancy. Our help at recruitment level is only to connect you with our clients and we make sure that their qualifications and work experience is verified and would pass INZ's requirements. On top of it, we will not charge you for your participation in our attempts to make the world a more equal place!
We look forward to working with you to help these highly skilled people reclaim their sense of agency, pride and a safe place to call home.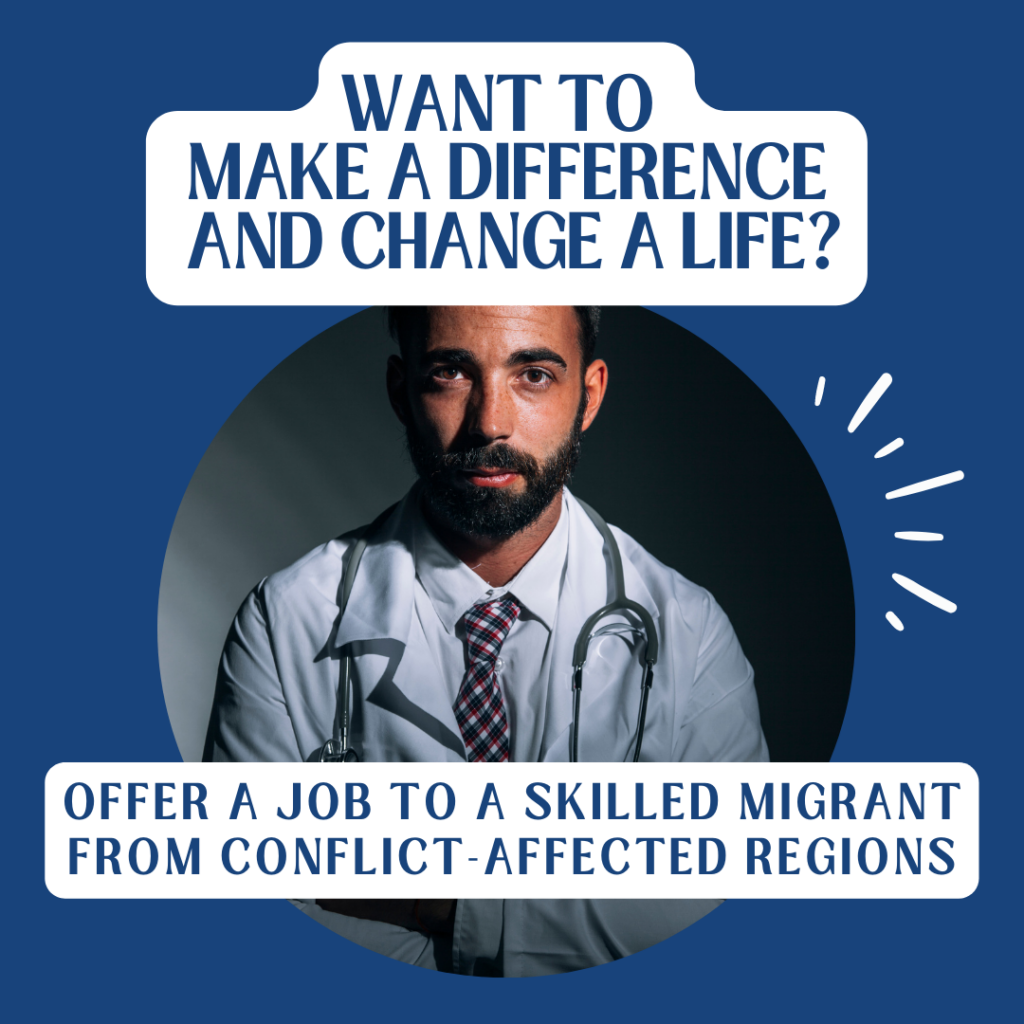 Statistics Source:
https://www.oecd.org/ukraine-hub/policy-responses/what-we-know-about-the-skills-and-early-labour-market-outcomes-of-refugees-from-ukraine-c7e694aa/